Most people interested in going on to university apply through UCAS during S6. Occasionally S5 pupils will apply but for this, you need to be very clear about what courses you want to go for and also about having a good chance of achieving the necessary entry requirements. PSE classes in S6 will help support you through the application process. The main website to use as a starting point for university information is www.ucas.com
If you are interested in careers in architecture, medicine, veterinary medicine or law you should register with Pathways to the Professions as soon as possible – using this link. Ideally you should register with them from early in S4. They have some good information resources related to these career areas and also run special events such as "So you want to be a Lawyer". Their special events often run during the October holidays.
If you are attending Penicuik High School and are interested in Higher Education you may get some support from LEAPS look out for more information during PSE and in assemblies.
Here is a short video to remind about some of the things you need to consider and do to prepare well for HE applications:
Whether you are in S5, or at the start of S6, it is really important you do some background research and preparation so that the application process works as smoothly as possible for you. Some courses will need you to have some related work experience. Others will need a lot of detailed and varied specific work experience. All university applications can benefit from having life and work expeirence and extra curricular activities to help add to your personal statement. An ideal time to get some more experience is during the summer break between S5 and S6 and this can be planned out well in advance.
Most university courses require you to have good Higher results – usually between 3 and 5 good Highers as their minimum entry requirement. The subjects required will vary from course to course.
It is really important that you make sure you ALWAYS DOUBLE CHECK INDIVIDUAL COURSE ENTRY REQUIREMENTS ON INDIVIDUAL UNIVERSITY WEBSITES to ensure you have the most up to date information. 
If you are not sure you can achieve these entry requirements but want to continue your studies beyond S6, you should consider HNC/HND courses – which can be a good alternative route into a degree, as well as a useful qualification in their own right. HNC/HND courses are usually run at colleges and for most of them you apply individually to the specific college.
HNC/HND courses usually require 1-3 Highers as entry. You can find out more about HNC/HND's on www.planitplus.net It is also important to consider applying to HNC/HND courses as a possible back up plan to your university applications.
The ELRAH website www.elrah.ac.uk helps explain how an HNC/HND can lead on to degree level courses.
Make sure you attend Open Days for any universities that you are seriously considering.  You may need to book your place for these online – so plan ahead for this. A list of Open Days and University Websites and contact phone numbers is here: Higher Education Open Days 2018
Here is the list of  University Open Days 2018
Information on funding for HE is available on www.saas.gov.uk
Here is the UCAS How to Guide for Personal Statements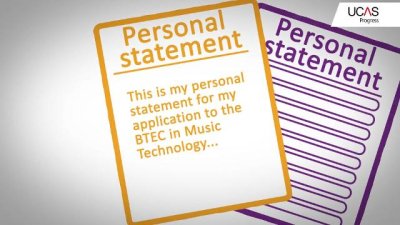 Give yourself plenty of time to work on your personal statement, as this is a key factor in universities deciding on possible offers of places.
There are lots of other help videos for UCAS applicants on www.ucas.tv
e.g. how to choose the right course.
The HE Websites 2018 hand-out has links to other websites you may find useful.
If you need more help with looking at university to see if it is a good option for you – or you need any help with the planning or application process, you can come along to a  careers drop in session in the guidance base during lunch break most Monday, Wednesday and Friday and see how we can help. No appointment required for these sessions or ask your guidance teacher for a meeting with us.